BOOMBOD is a weight loss company that sells dietary supplements, specifically the popular "weight loss shot." These "shots" are sold in single-serving sachets that are to be mixed with a small amount of water and consumed three times a day. To give you an idea of how popular they are, BOOMBOD has sold over 1 million boxes of their weight loss shots to both male and female clientele. In addition to reducing bloating and promoting weight loss, the BOOMBOD shots are intended to help people be more energetic and productive, get more sleep and be more motivated to exercise.
Keep reading for a throughly researched review of BOOMBOD weight loss products.
BOOMBOD Review
What Sets BOOMBOD Apart from Competitors?
BOOMBOD contains glucomannan, which is a water-soluble dietary fiber that comes from the cell walls of plants. As an ingredient, it helps people feel fuller for longer while reducing the urge to eat. It can be used for a variety of purposes, but BOOMBOD uses it to help people feel more full after meals. It is clinically proven to aid in weight loss. Although there are other companies that use glucomannan, BOOMBOD's products don't have a laxative effect. Also, there is no caffeine in BOOMBOD weight loss shots. They are safe to consume regularly, with many people seeing results in seven days.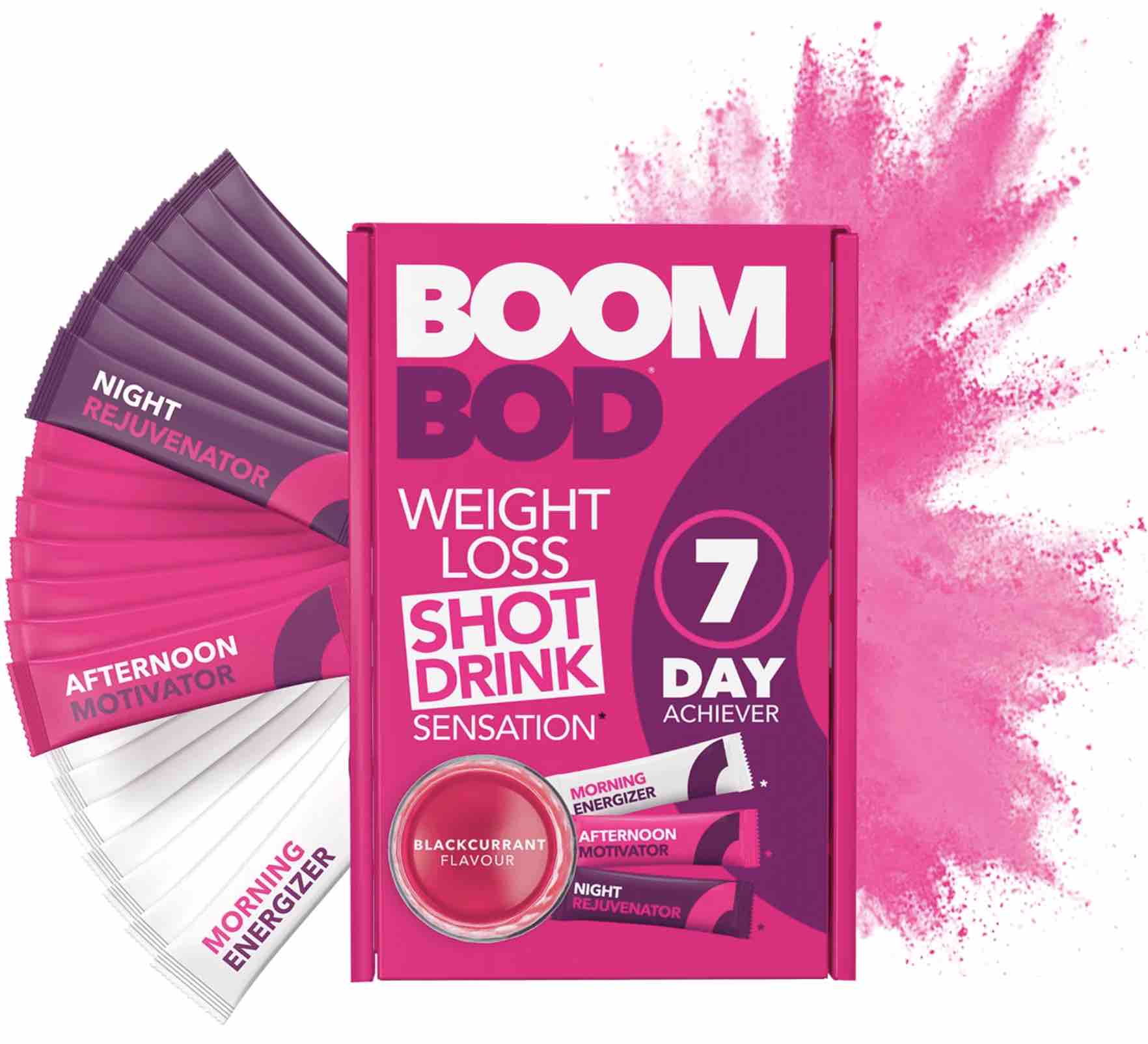 What Does BOOMBOD Sell?
As mentioned above, BOOMBOD sells weight loss shot drinks that are formulated to prevent cravings and reduce bloating. The weight loss shots come in individual sachets packaged as 7-day, 14- day and 28-day "Achiever" programs that cost $39.99, $79.98 and $159.96 respectively. They are gluten-free and dairy-free, and they're safe for vegetarians.
BOOMBOD also sells a variety of supplements for $29.99, including multivitamins, digestive enzymes; calm and relaxation supplements; hair, skin and nails supplements; and mental performance supplements.
Finally, BOOMBOD sells a few accessories including gym towels and BOOMBODDLES, which are plastic shaker bottles that hold 20 ounces of your favorite drink. They also have a storage compartment in the bottom for any supplements you take throughout the day.
Currently, you can save on your purchase through BOOMBOD! An exclusive "Buy One Get One FREE" promotion is running today. Quantities are limited, so be sure to get your order in as soon as possible.

How Do You Use BOOMBOD?
BOOMBOD doesn't consider their weight loss shots to be a complete "diet plan". They do advise users to eat three healthy meals during the seven days (or longer) when taking the shots. You could use it as a boost when you need to get back on track, or you could use it regularly as part of a healthy diet. Although most people see results after the 7-day Achiever program, some people do the program for longer. This is why BOOMBOD also sells a 14-day and 28-day program. There aren't any restrictions on how long you can consume the shots.
The sachets should be combined with 1/4 cup of cold water, consumed 30 minutes before meals and followed with a glass of water, three times a day. Each 7-day BOOMBOD Achiever program contains:
7 sachets of Morning Energizer shots for energy and metabolism that contain Vitamin C, iron, magnesium and more.
7 sachets of Afternoon Motivator shots that contain Zinc, Vitamin B6, B1, B12 and more. The Vitamin B12 helps reduce tiredness and fatigue.
7 sachets of Night Rejuvenator shots that contain biotin, selenium, Vitamin D3 and more to contribute to healthy skin and hair.
People who have found success with BOOMBOD say they like to keep a 7-day supply handy just in case they need help once in a while getting back on track with their weight loss goals.
BOOMBOD vs. Competitors
One competitor of BOOMBOD is SkinnyMint. Like BOOMBOD, SkinnyMint also makes dietary supplement shots called Super Lean Shots that come in sachets to be taken three times a day for 10 days (or longer), 30 minutes before meals. Like BOOMBOD, SkinnyMint's shots also contain glucomannan along with a blend of vitamins and minerals. SkinnyMint Super Lean shots only have 4 calories each, compared to BOOMBOD's 10 calories. They also cost less but are sold in different increments than BOOMBOD sells: $44.90 for a 10-day program, $71.80 for a 20-day program and $94.20 for a 30-day program.
A 10-day Super Lean Shots program consists of 30 sachets, including:
10 Morning Fresh Up - A strawberry-flavor metabolism booster
10 Noon Boost - A strawberry-flavor energy booster
10 Night Reset - A honey-ginger flavor system-restoration blend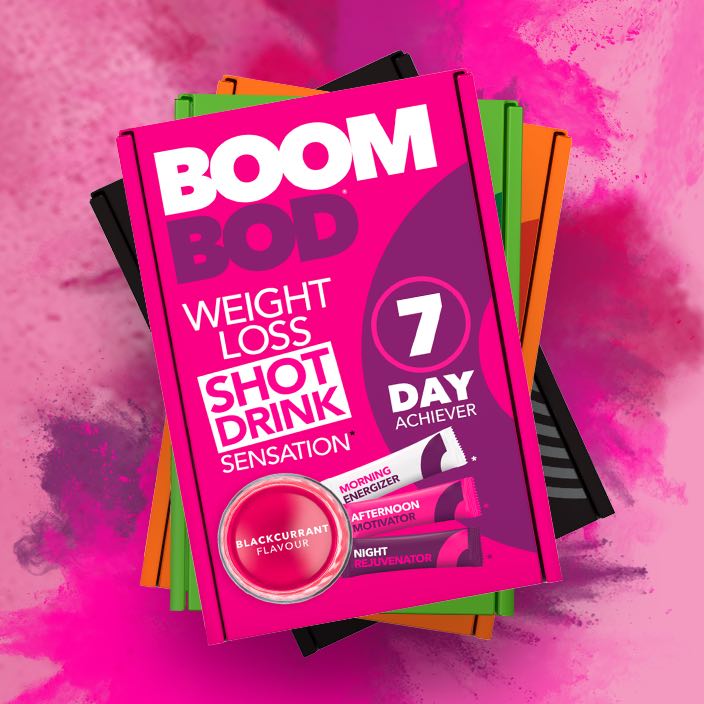 Users are instructed to take 1 sachet, 3 times a day, 30 minutes before meals. The instructions are to mix a sachet into 1/4 cup of cold water and stir it until it dissolves. It should be drank fast and followed immediately with a glass of water to make sure all of the contents of the shot are flushed. This is no different from BOOMBOD. The flavors are different though, as there is no choice like there is with BOOMBOD (black currant, lemon lime, black cherry and orange mango). Online reviews for BOOMBOD are extremely positive and may encourage customers to select BOOMBOD over most competitors.
BOOMBOD Pros and Cons
Pros
Multiple flavor options

Positive reviews online

No caffeine or laxatives

Over 1 million boxes sold

Extremely easy to use
Cons
Pricier than some competitors

Must be consumed immediately after mixing
Overall BOOMBOD Review 4.5/5
If you're curious about BOOMBOD but would like more information, their Instagram account is a great source, with over 490,000 organic followers, as well as 100,000+ followers on Facebook. You can also check Trustpilot where there are 2,000+ excellent reviews from real customers. You'll see that BOOMBOD has a very engaged customer base, that is always proving updates, testimonials and results photos. For the fact that so many people use and trust BOOMBOD, and because there isn't caffeine or laxatives in the product, we would definitely recommend trying BOOMBOD. The reason it isn't a 5 out of 5 is only due to the fact that users still have to make sure they are disciplined to eat right and exercise if they want to keep the weight off. Users who understand how it works, however, have been pleasantly surprised at the results.
**Thorough research online was completed in order to write this review. The products mentioned were not actually sampled by the author. Additionally, this post was paid for by the merchant being reviewed. Purchasing products through links in this review will result in ReviewsPlus earning a small commission.**