Ordering houseplants online is a great way to bring new life into a home without ever having to leave your home. However, which is the best website for ordering houseplant delivery service? One popular option is Bloomscape. In this review, we'll look closer at what sets Bloomscape apart from competitors and if they're worth ordering houseplants from. Scroll down to read a firsthand Bloomscape review and then continue to see more in-depth information about the brand itself.
**To complete this review, Bloomscape provided a potted plant delivery. By making purchases through links on this page, ReviewsPlus will earn a commission for the sale.**
Bloomscape Review
Hands-On Review of Bloomscape
To complete this review, Bloomscape delivered a houseplant to me to experience firsthand how the process goes and to assess the quality of the plant delivered.
In our apartment, we have a wide variety of houseplants and succulents. Generally, the plants we own are small to medium size, so I decided that what was needed was a large, leafy plant. I landed on the Dracaena Warneckii with a clay-colored pot. Here is how it is pictured on the Bloomscape website versus how the plant looks in my apartment currently.
My box with my new plant arrived less than a week after placing the order with Bloomscape. Here are some pictures of the Bloomscape potted plant delivery packaging as I received it.
I was very pleased as I unboxed the Bloomscape plant delivery. The plant was in great condition and well protected. Bloomscape even included a "This Way Up" sticker on the packaging, so when I went to pick up the delivery, it wasn't tipped on its side carelessly. As you can see in the pictures above, Bloomscape took particular care to protect the pot and compact the soil to prevent any spillage from occurring during delivery.

Overall, I found the depiction of the plant on Bloomscape to be extremely representative of what I received in reality (see comparison photos above). There was nothing I was upset about and overall would highly rate my hands-on experience with Bloomscape plant delivery.
How Does Bloomscape Work?
Bloomscape makes it extremely simple to order easy-to-care-for houseplants for delivery right to your home. The process is quite straightforward for any plant mom or plant dad. Here's how it goes.
1. Visit bloomscape.com to view their online plant shop.
2. Click the "Shop" tab to select the types of plants you'd like to select from or to view the entire selection available. You can scroll down to the "What Plants Does Bloomscape Sell" section to see the varieties of houseplant that Bloomscape offers.
3. If you'd like, you can narrow down your search for the best houseplant for your home using the filters available. Currently, you can filter your houseplant search by size, difficulty and light level. You can also toggle Pet-Friendly and Air Cleaner to further narrow down your houseplant search.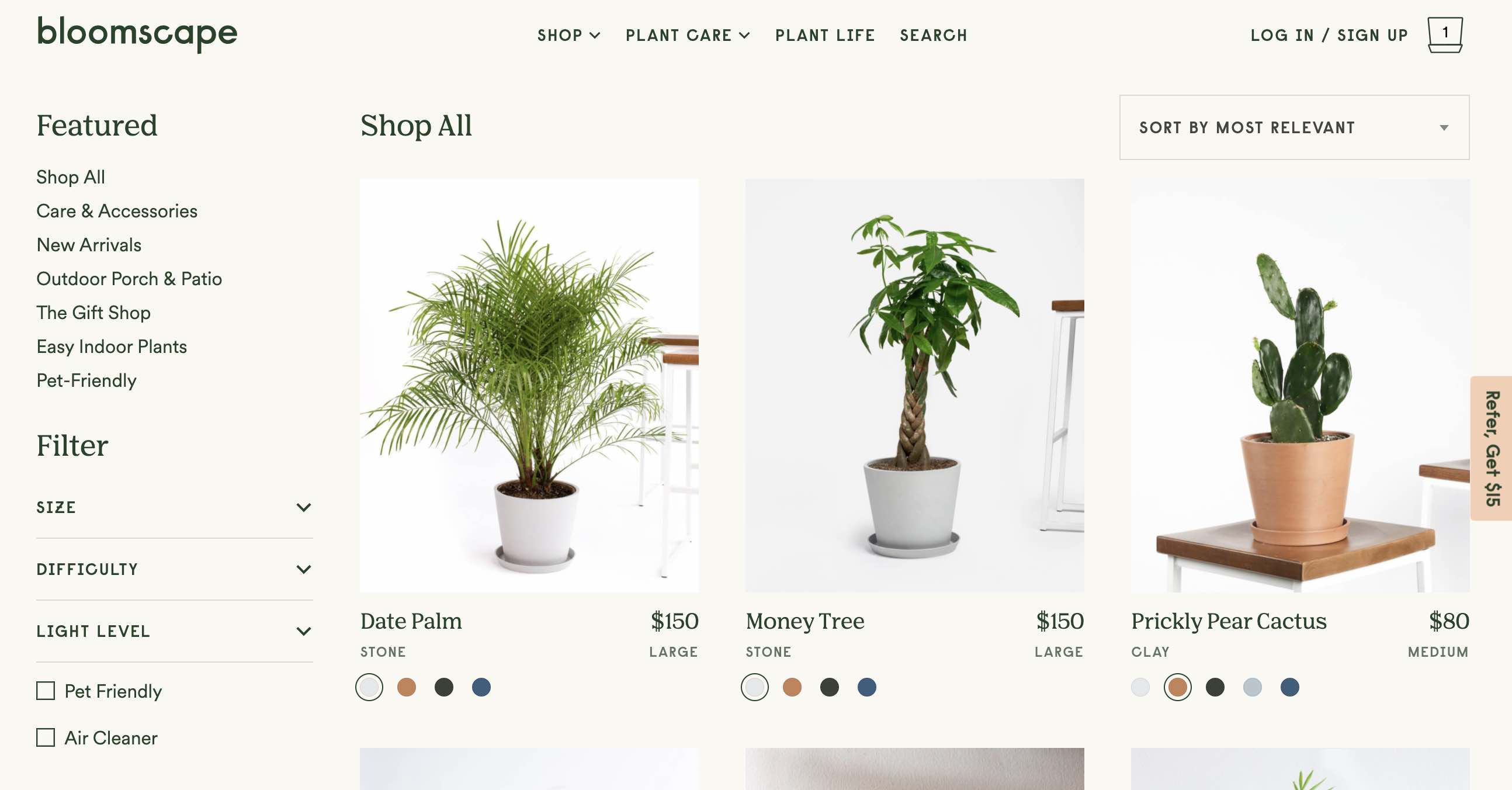 4. Once you've selected your plant, you can then choose the color of the pot. For example, with the Date Palm house plant, you can choose a pot color of stone, clay, charcoal or indigo.
5. Another thing you'll notice when you visit the page of a specific Bloomscape plant is that all of the details about the plant are clearly listed. These include the level of light needed to keep the plant healthy, if it's pet friendly and more. Use this section to decide if the plant you've selected is right for your home. If not, go back to Step 2.
6. Once you've found your plant, simply add it to your cart and go through the easy checkout process! Enjoy the new greenery for your home.

What Plants Does Bloomscape Sell?
Bloomscape offers a wide variety of houseplants on its website which can be ordered for home delivery. Here are the sections available with a few examples offered for each of the categories.
| | | |
| --- | --- | --- |
| Peperomia Ginny | Prickly Pear Cactus | Money Tree |
| Sansevieria | Pothos Collection | Variegated Ficus |
There are also other categories that are searchable on Bloomscape including Care & Accessories, New Arrivals and The Gift Shop.
Bloomscape Company Info
Bloomscape comes from a long line (five generations) of greenhouse growers, adding to their reputability. Founded by Justin Mast, Bloomscape takes the knowledge of his family and implements it into their process of bringing healthy plants to customers around the United States.
All plants shipped from Bloomscape come directly from a greenhouse, ensuring healthy plants upon arrival. This differs from many other services, which require shipping plants to warehouses before they arrive to the customer. Storing plants in less than ideal conditions in warehouses can lead to less healthy plants by the time they arrive to the customer. If plants from Bloomscape die within 30 days, you get your money back!

Bloomscape also uses innovative packaging to help prevent any damage or soil spillage. According to the Bloomscape website, shipments typically arrive within a week of ordering. When your Bloomscape houseplant arrives, it also comes with plant care instructions to help you keep your plant alive and healthy for as long as possible. Time to improve your green thumb!
Bloomscape FAQs
How long does Bloomscape take to ship?
Bloomscape cactus and houseplant deliveries will take 7-9 business days to ship after the order has been placed online, according to the Bloomscape website. Once the plant has shipped, customers can expect delivery within 3-5 business days.
Does Bloomscape ship to California?
Yes, Bloomscape does ship to California.
Is Bloomscape legit?
Yes, Bloomscape is 100% legit. With multiple generations skilled in the art of growing plants in greenhouses behind them, Bloomscape has perfected the process of getting healthy plants to customers across the country.
How can I pay for Bloomscape?
Bloomscape will accept Visa, MasterCard, Discover and American Express as payment for online orders.
Is Bloomscape overpriced?
Bloomscape houseplants and succulents are generally more expensive than many competitors. However, when shopping with Bloomscape you are guaranteeing yourself a healthier plant upon arrival than those same competitors. This is backed by a 30-day guarantee if the plant dies and also protection if the plant arrives damaged in any way.
Bloomscape Pros and Cons
Here are the main pros and cons of Bloomscape online houseplant delivery.
Pros
Wide variety of plants to choose

30-day guarantee

Orders over $75 ship for free

Ships in pot color of your choice

High level of filters for narrowing down searches
Cons
Expensive compared to other options
Overall Bloomscape Review - 4.5/5
In my experience, Bloomscape does everything right. They offer a wide selection of plants on their online store and provide many different ways that customers can narrow down their search. The additional information Bloomscape provides online with the plants is a great resource for raising a healthy plant and not being a bad plant parent.

The only downside to Bloomscape that I recognize is that Bloomscape is slightly overpriced compared to other merchants. However, this cost comes with high quality. Bloomscape plants come right from a greenhouse, ensuring that the plant is as healthy as possible when it finally gets to the customer. If you're looking for a place to order houseplants or succulents online, Bloomscape is a solid option.