Launched in 2016, bioClarity is a green skincare brand. All bioClarity products are entirely plant-based and vegan. Whether acne is your skin concern or you have other skincare goals, let's take a look to see if bioClarity is right for you. Keep reading this bioClarity review for more information on the brand plus a hands-on review with real bioClarity products!

Hands-On bioClarity Review
To complete this review, I tried bioClarity for 10 days. The products shipped to me were provided by bioClarity for the purpose of this review. I used the bioClarity Essentials routine. Again, this routine is likely the most versatile of all, but my main goal for using it was to hydrate while also combating redness. In addition to the three products in the Essentials Routine, they also sent me:
Dewy Dew Multi-tasking Mist - A spray that you use after cleansing and can do a variety of tasks including refine pores, even skin tone and texture, set makeup and act as a toner.
Brighten Up Sunshine - This mask has Vitamin C, pineapple and coconut to exfoliate and brighten the skin as well as give it an allover "glow."
How and in what order to use everything was listed right on the bottles themselves, so that was convenient. Also, the packaging was compact and not wasteful. The bioClarity vegan skincare products came in a cute little burlap sack. Small, sample-sized items were sent, however, I'm still using them over 10 days later with plenty more still available. A little goes a long way with bioClarity.
bioClarity First Impressions
The first thing I did when I opened my bioClarity products was smell them. I was disappointed as I was expecting there to be some sort of fragrance. That is probably just my nose being used to artificial fragrances found in other skincare products I've used throughout the years. Nonetheless, the lack of a fragrance reaffirmed the fact that all bioClarity ingredients are all-natural. And really, I don't need to smell like a pineapple or coconut; I need clean, healthy skin.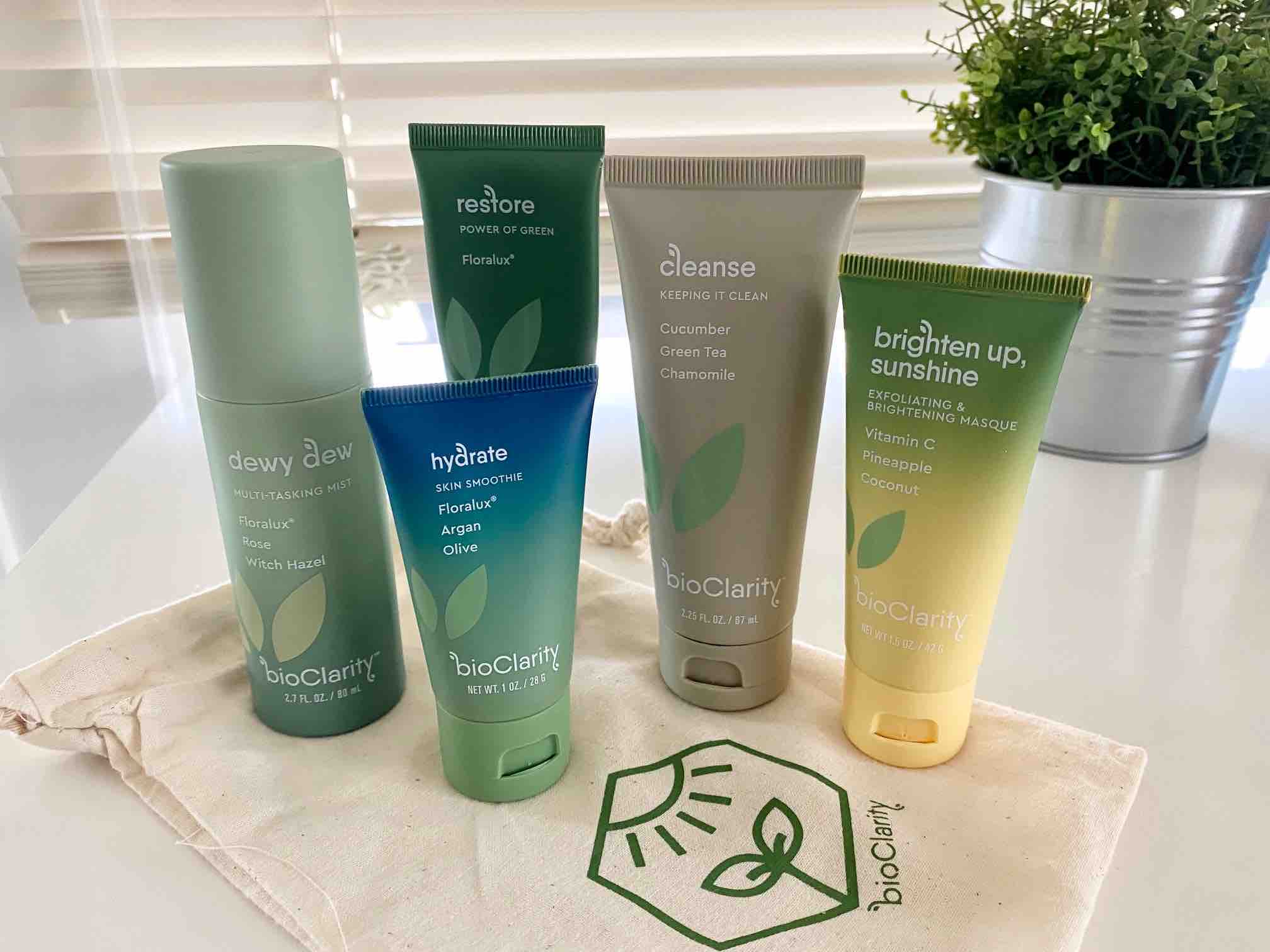 bioClarity Effectiveness
Once I started using the products, I was pleasantly surprised by the cleanser's lathering ability. I've used other natural facial cleansers, like Keihl's, that didn't lather much at all. Without any lather, my face didn't feel clean afterward. I was really happy with bioClarity's ability to naturally get a rich lather. After consistent use, I found the cleanser to be awesome. I didn't have any breakouts, and my skin felt clean after using it.
The bioClarity moisturizer was also effective, although it was a bit watery for my liking. I tend to prefer thicker moisturizers.
The Dewy Dew toner spray was interesting. I can't tell if it was effective after 10 days in reducing redness or anything else it promised, but it did leave my skin feeling "dewy" and more moisturized than the moisturizer did.
I only used the bioClarity vegan mask once, since it should be used sparingly. It left my skin feeling soft to the touch and refreshed as a typical mask would. Nothing mind-blowing here, but it is certainly effective. I will continue to use the mask regularly and gauge its effectiveness along the way.
The one product I'm torn about is the bioClarity Power of Green (Restore) serum. It would be unfair to only give it 10 days before judging it, but I expected at least to notice a little reduction in redness, and I haven't at the time of this writing. Putting the Restore gel on as instructed, after the cleanser and Dewy Dew, made my skin feel sticky. While the sticky feeling was only temporary, it took some getting used to.
After using bioClarity products for 10 days, my skin is more plump and healthier than I've been able to achieve with routines from other brands.

What Sets bioClarity Apart?
Our skin is our body's largest organ and what we put it on can have affects on other systems. bioClarity was formed as a way to deliver results with plant-powered ingredients instead of relying upon harsh chemicals with toxins that can irritate the skin. One of the brand's signature ingredients is a type of chlorophyll called Floralux, which is patented by bioClarity. This Floralux is an antioxidant that excels at reducing redness and minimizing the appearance of pores. Chlorophyll is why many bioClarity products are green in color.
Another thing that sets bioClarity apart from other brands is the fact that accessibility is part of their mission. They want these skincare products to be affordable and easy to use.
bioClarity is everything a health-conscious and ethical person could ask for! Every product is 100% vegan, toxin-free, cruelty-free, dermatologist tested and made without sulfates, parabens and phthalates.
Is bioClarity Cruelty-Free?
Yes, bioClarity is 100% cruelty-free! Some skincare brands test on animals because they use harmful ingredients that pose a risk to humans. With bioClarity, there is no need for that because all ingredients used are safe and natural. Besides the chlorophyll Floralux, you'll see ingredients like chamomile, licorice root, green tea, soothing oat kernel and cucumber listed as some of the ingredients. Not only is BioClarity cruelty-free, but also 100% vegan.
What Products Does BioClarity Sell?
There are a lot of different skincare products at bioClarity, but each has a specific focus. that being said, some bioClarity skincare products work well together to combat specific problems. To make it easy to tackle those problems, bioClarity groups their most popular products into three different routines: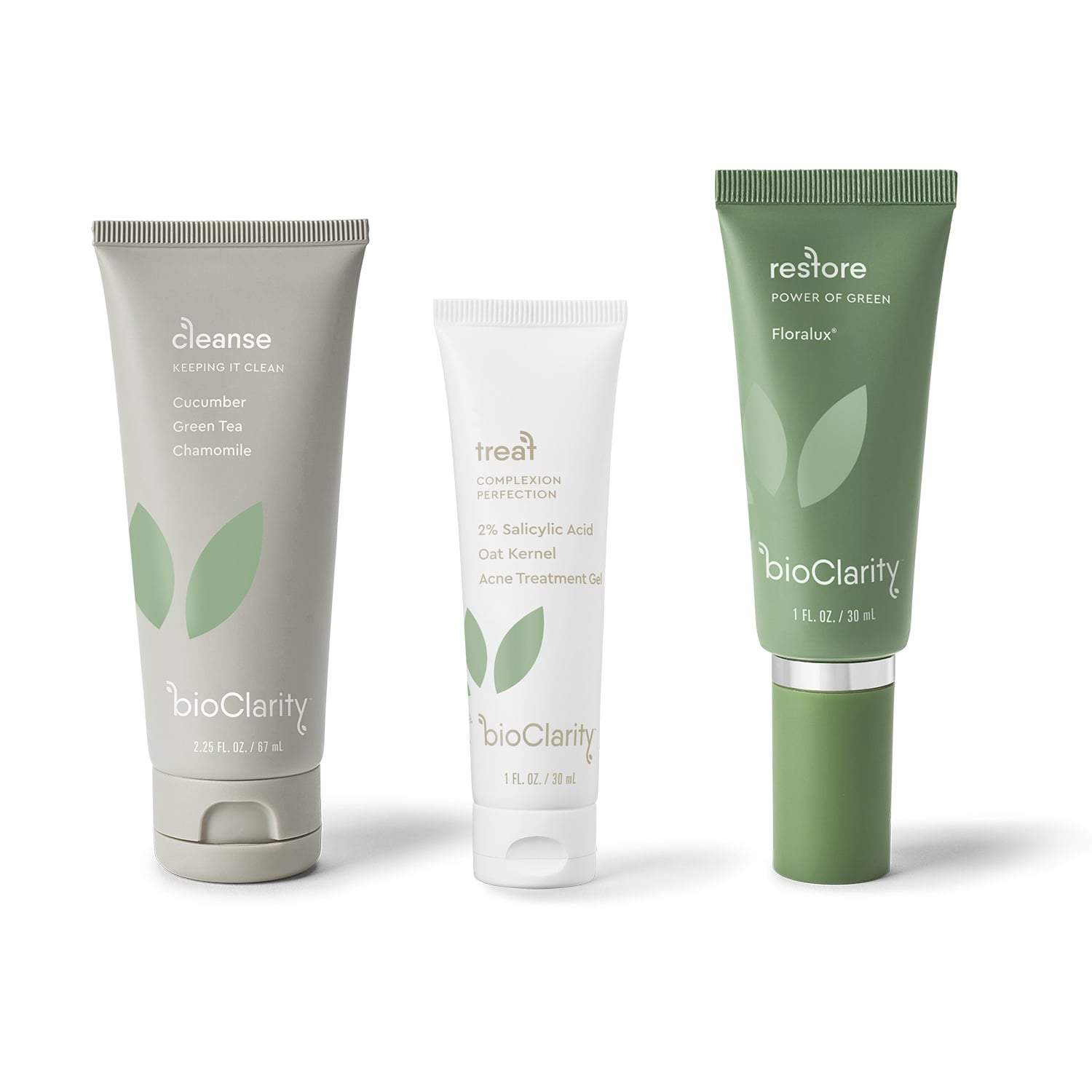 This acne treatment is designed for skin that is pimples and acne-prone. It includes three products: a cleanser and two gels. Here is more information on each:
Keeping it Clean (Cleanse) - This paraben-free foaming cleanser detoxes the skin and is used in all three bioClarity skin routines. The most prominent ingredients are cucumber, green tea and chamomile.
Complexion Perfection (Treat) - This is an exfoliating gel. It has 2% salicylic acid as well as soothing oat kernel and moisturizing squalane to help it fight blemishes without it burning or otherwise harming the skin in the process.
The Power of Green (Restore) - A gel with a chlorophyll base as well as copper and antioxidants to help soothe skin, reduce the appearance of redness and fight breakouts.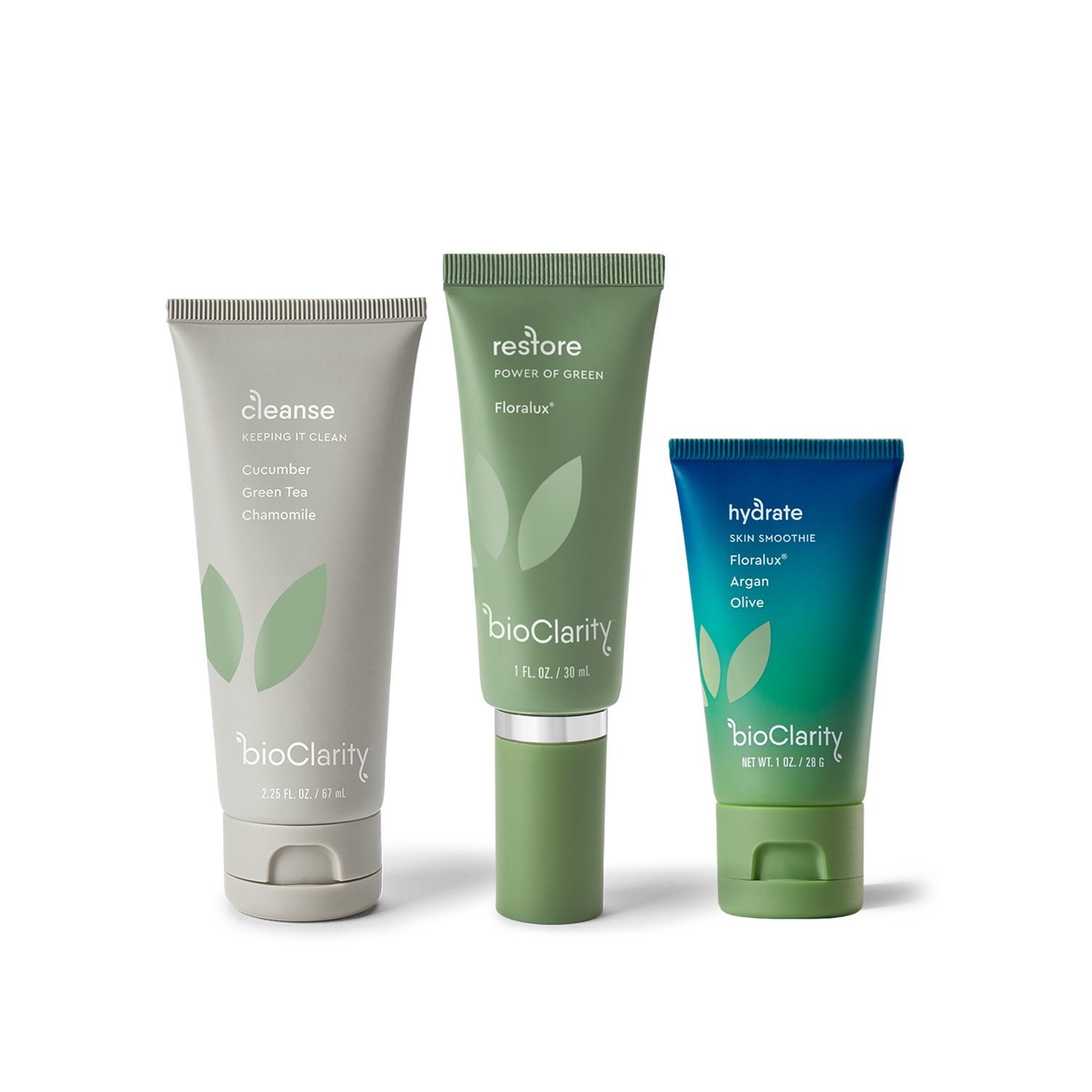 This regimen suits a wide variety of skin types, from normal to oily. The three products in this routine are:
Keeping it Clean (Cleanse) - The same foaming cleanser as in the Clean Skin Routine above.
The Power of Green (Restore) - The same gel serum as in the Clean Skin Routine above.
Skin Smoothie (Hydrate) - A moisturizing blend for dry skin of Floralux (chlorophyll), argan, olive, ceramides, licorice root, jojoba and shea.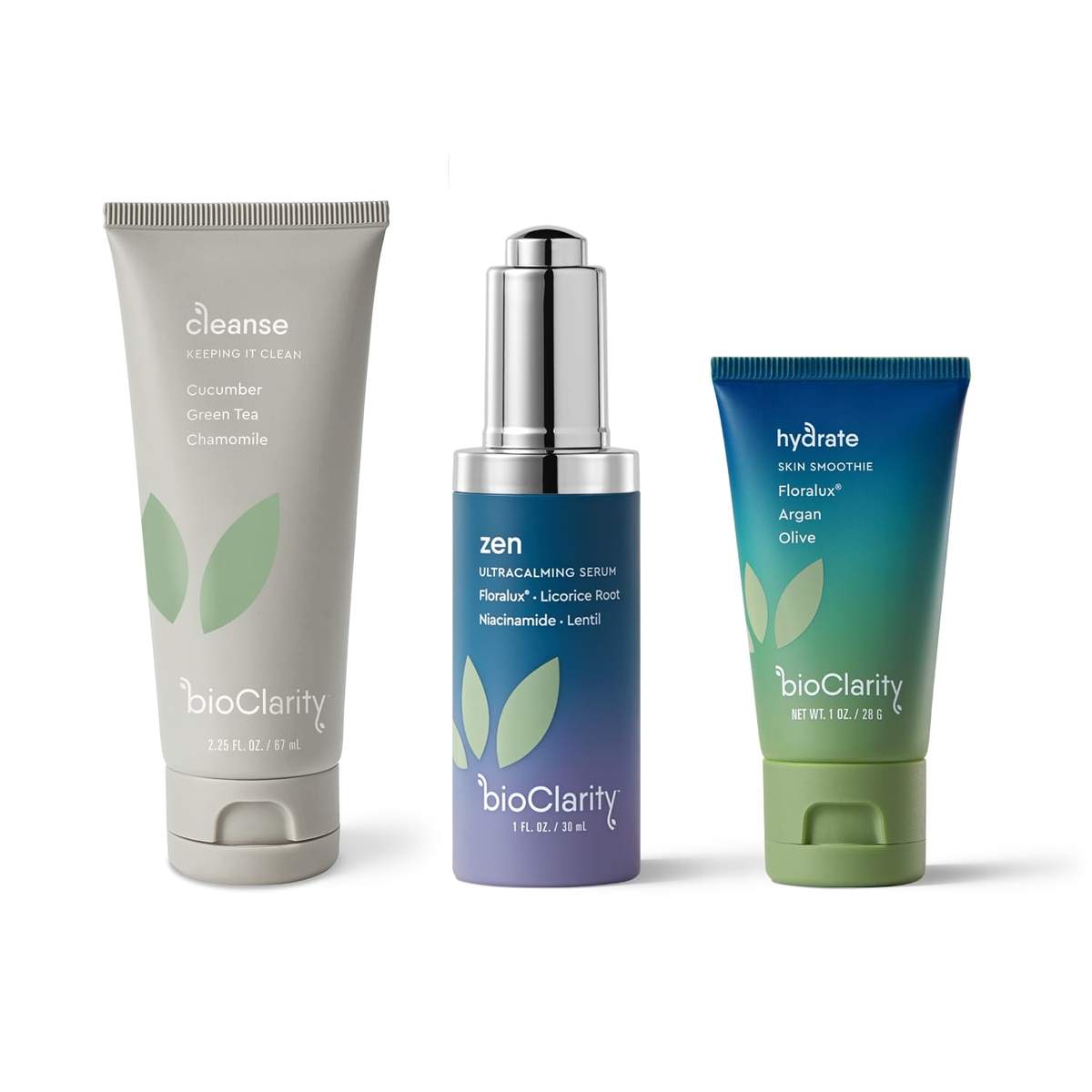 bioClarity Ultra Calming Routine

Anyone who wants to soothe skin that is red in appearance or suffers from inflammation, would benefit from the Ultra Calming trio. It is also suited for oily complexions. This bioClarity routine has two of the same products as the Essentials routine as well as a unique serum:
Keeping it Clean (Cleanse) - The same cleanser as in the two routines listed above.
Skin Smoothie (Hydrate) - The same hydrating moisturizer as in the Essentials Routine listed above.
Ultracalming Serum (Zen) - A serum especially intended for calming sensitive skin.
Besides using the three routines listed above to help you find the right skincare products, you can also shop by basic skin needs: Acne & Blemish Control, Age Defy, Brightening, Hydration, Oil Control, Sun Protection and Uneven Tone. Shopping this way is the best way to choose individual items to complement your routine with bioClarity vegan skincare products.
bioClarity Vegan Skincare vs. Competitors
Like with any product, there is no one-size-fits-all solution. Still, bioClarity's products (especially its Essentials routine) do a good job of sticking to the basics and making products that are safe for everyone. Nonetheless, for every good brand, there will always be competitors. Two top competitors to bioClarity are Origin and Juice Beauty.
Origins
Like bioClarity, Origins is another brand that uses natural ingredients and prides itself on vegan and cruelty-free products. Although there are similarities, the main difference seems to be in its price. For example, let's look at a product that focuses on the problem of redness: Origins Mega-Mushroom Relief & Resilience Treatment Lotion. It uses an ingredient called precious reishi mushroom to soothe and chaga ferment to calm the skin. It claims to visibly reduce redness after one use and costs $56 for 13.5 oz.
Juice Beauty
Juice Beauty is another brand that harnesses nature to benefit the skin. Their technique is to use a botanical juice base in their products instead of water or petroleum glycols. Why? So that every bit of the product has antioxidant-rich benefits instead of other fillers that don't provide any benefit.
One of the products Juice Beauty markets to fight redness is a lightweight serum that is fittingly called Juice Beauty Antioxidant Serum. They say that it is clinically proven to help reduce free radicals by up to 87%. It is also meant for all skin types. The price is $48 for 2 oz.
The product bioClarity provides to battle redness is its Power of Green (Restore) serum. Although it is only 1.75 oz., it is also a more gel-like serum than the liquid Origins product. This increases the overall effectiveness of the product. bioClarity promises to nourish your skin and help fight breakouts when used as part of the Clear Skin Routine. Even on its own, it is full of antioxidants to reduce redness, create an even skin tone and also leave a dewy finish. The bioClarity option is $39.95 for 1.75 oz. This is less expensive than the Juice Beauty option and will require less product to be utilized per use than the Origins option.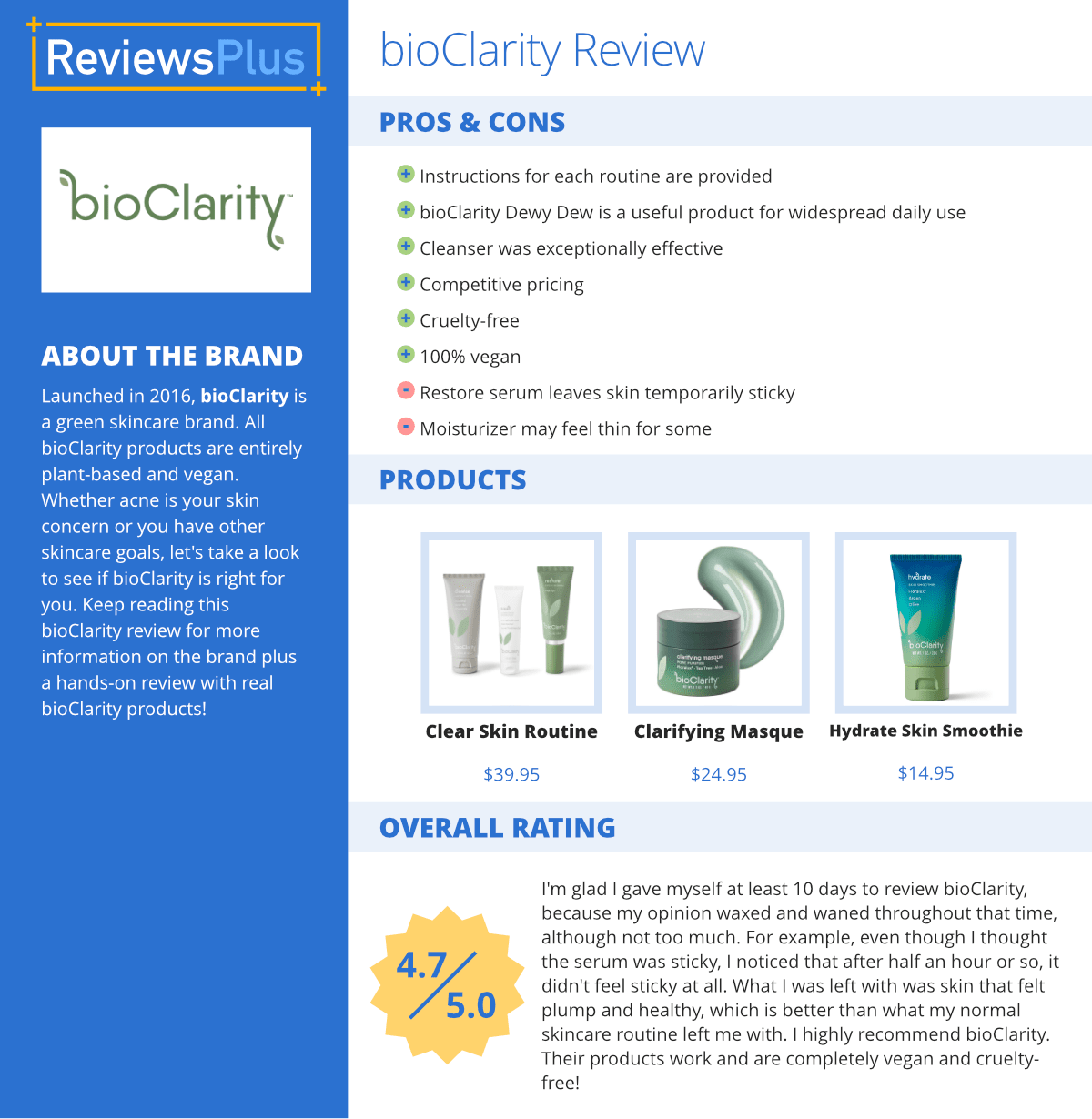 bioClarity Pros and Cons
As I mentioned earlier, you can't make everyone happy when it comes to skincare. For me, bioClarity had its pros and cons.
Pros
Instructions for each routine are provided

bioClarity Dewy Dew is a useful product for widespread daily use

Cleanser was exceptionally effective

Competitive pricing

Cruelty-free

100% vegan
Cons
Restore serum leaves skin temporarily sticky

Moisturizer may feel too thin for some

Overall bioClarity Review - 4.7/5
I'm glad I gave myself at least 10 days to review bioClarity, because my opinion waxed and waned throughout that time, although not too much. For example, even though I thought the serum was sticky, I noticed that after half an hour or so, it didn't feel sticky at all. What I was left with was skin that felt plump and healthy, which is better than what my normal skincare routine left me with. I highly recommend bioClarity. Their products work and are completely vegan and cruelty-free!