Noom Review
At Last, Noom Has Come Along. A Diet Promising Long-Term Weight Loss Success.
Diets are hard. And they don't last. A diet, by design, is a temporary period of deprivation designed to help you slim down (before you put the weight back on). That's why Noom was created. It's a more palatable, long-lasting option for those looking to lose weight and take control of their health.
Noom isn't just another diet plan. Noom is an all-over, app-based wellness program. Rooted in psychology, Noom helps its users identify and overcome barriers that are preventing long-term weight loss success. Noom helps you recognize your unhealthy triggers, then arms you with the right strategies and tools to stay on track. Long past bikini season, Noom is there. Noom with you, for a healthier you, for the long haul.
Pros
+ Holistic approach - program designed by nutritionists, psychologists, and fitness experts
+ Community - online access to virtual support community that includes health coaches
+ No off-limit foods
+ No dieting
+ No counting carbs, calories, or points
+ Personalized approach for your goals and lifestyle
+ Identify and address underlying behaviors that are preventing long-term weight loss success
+ Program includes a pedometer and log for you to monitor your blood sugar and blood pressure
+ Free trial period
+ Money-back guarantee if you don't lose weight after completing the Noom program
+ Refunds available
Cons
- Noom is app-only and not accessible on desktops, laptops, and some tablets
- No meal options - you have to buy and prepare all your own food.
- No meal plan provided. (Can be challenging for those who crave more structure.)
- Coaching support is not 24/7. Typically it's limited to weekday business hours.
- Digitally focused user experience - may be a challenge for seniors or adults less digitally savvy.
- Plans on an auto-recurring billing cycle
Noom Plan Highlights
App-based weight loss and wellness program that's focused on lasting results
Rooted in psychology to address underlying causes preventing long-term success
Centered on making healthy, sustainable lifestyle changes
No dieting, no off-limit foods, and counting calories or carbs
Free, risk-free trial period
Online access to wellness coaches and virtual support groups
Custom-tailored programs based on your goals and needs, including weight management and diabetes management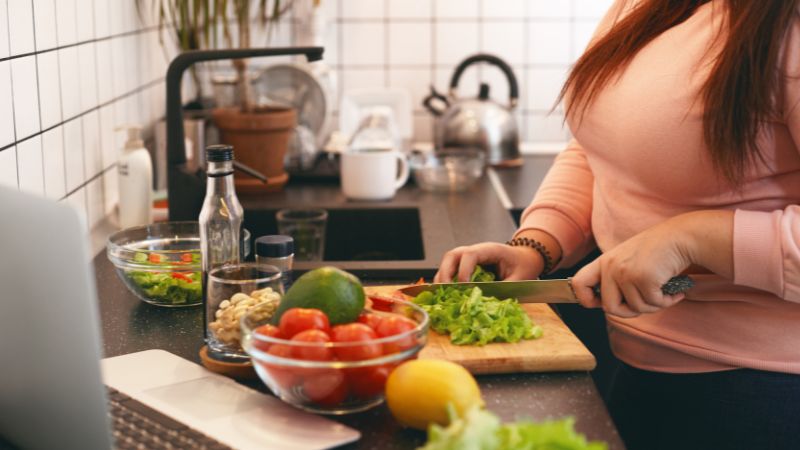 What is Noom? Is Noom a Diet or an App?
Noom is an app-based wellness plan that can help help you lose weight and finally keep it off. Noom wants to stop fad diets and focus on the psychology behind destructive or unhealthy behaviors.
This means helping users identify triggers that lead to binge eating, emotional eating, or other unhealthy eating. Noom users learn healthy strategies and coping mechanisms, and how to get back on track if they fall off the bandwagon. This results in a shift in how Noom users manage stress and negative emotions, and how they think about food, weight loss, and wellness in general. It's this shift in thinking that creates permanent lifestyle changes and real, long-lasting results.
It starts with Noom's 16-week Healthy Weight Program. The curriculum is created by a team of psychologists, doctors, fitness experts, and behavioralists. In daily, bite-sized bits, users learn about healthy eating, exercise, forming good habits, and developing the skills and emotional intelligence needed to reduce stress and manage negative emotions. There's an emphasis on proper sleep and rest.
And it's not a one-size-fits-all approach to weight loss. It's a buffet of choices where you customize your plate based on dozens of personal factors. This includes your age, sex, lifestyle, work, dietary needs, relationships, and any other unique challenges you're facing.
And it's not a one-size-fits-all goal either. Get health coaching and expert tips that are tailored to your unique goals. It's not just about dropping a set amount of weight. Other goals can include identifying and overcoming unhealthy eating triggers, getting proper hydration, or eating more fresh produce every day.
The Noom app is intuitive and easy to navigate. You'll find a virtual support community and wellness coaches. And there's a library bursting with helpful articles tailored to your goals, fun challenges (to keep you motivated and socially connected), health quizzes, recipes, and other resources. You'll also use the Noom app to log your food, exercise and activity, and weight, and connect with your personal health coach.
With all of these tools, Noom is like having a nutritionist, personal trainer, psychologist, and a team of cheerleaders at your disposal. All in your back pocket.
How Does Noom Work?
Noom works by helping users make permanent, healthy lifestyle changes. Temporary diet changes don't work permanently. Noom gives you the psychological insights and support you need to get at the root of your unhealthy eating and lifestyle behaviors and kick them. For good.
Every approach is customized to your unique needs, habits, daily challenges, and lifestyle. Noom helps you identify the thoughts, habits, and behaviors that are obstacles to your healthy weight goals.
Over a 16-week program, dive into fun, insightful mini-lessons served up in the app. Each day, Noom users are served new tasks to help them on their wellness journey. Tasks include reading short articles about weight loss, nutrition, healthy eating, stress management, exercise, and physical activity. Content is customized. It's selected for you based on your goals and needs.
The Noom app also uses algorithms to determine the most relevant, most helpful content to show users. These algorithms are based on your age, sex, weight, lifestyle, and how you interact with the Noom app.
Through it all, Noom is about empowering you to take charge of your wellness. Long-term, weight loss is possible.
For added support and accountability, every Noom user is paired with a certified health and wellness coach. Throughout your entire Noom journey, your wellness coach will offer support and encouragement, as well as practical tips. Coaches also provide specific feedback based on what users log for their food, water, weight, and activity intake every day. Users aren't required to use logs, but many find that it's helpful to understand what they are really eating, drinking, and doing every day for physical fitness.
After the 16-week program ends, your Noom journey doesn't have to stop. Many Noom users continue well past the initial 16-week program. There are 2 popular, flexible options you can choose from.
Continue to pay for the full version. Keep on with the same great experience and all the features you love, including access to your Noom coach.

Discontinue your paid Noom subscription. You can continue to use Noomm's free features, but without the coaching support and personally tailored resources.
Does Noom Weight Loss Work? How Much Weight Can You Lose?
Noom for weight loss works. A study in the British Medical Journal found that 64% of Noom users lost over 5% of their body weight using the Noom program. They concluded that Noom was effective in prediabetes intervention, weight loss, and long-term weight loss maintenance.
The study noted that Noom, as a uniquely mobile intervention, can achieve weight loss results that are comparable to other traditional programs.
Depending on your goals, 5% may or may not sound like a lot. For a 400-pound person, 5% represents a weight loss of 20 lbs. But for a 180-pound person, that's a weight loss of 9 pounds. Just like weight, everyone's 5% is different.
Keep in mind that you may lose far more weight. There are Noom users who have lost 30, 50, or 100 pounds or more using Noom. 5% is not a guarantee. It's the average weight loss participants saw in one medical study.
Even better, you're likely to keep off the weight that you lose. In a 2016 study in the Journal of Nature Research, nearly 80% of Noom users were able to sustain their weight loss long-term.
Noom isn't just helping you shed pounds through temporary restrictions to your diet. Noom empowers you to adopt a healthy, sustainable lifestyle.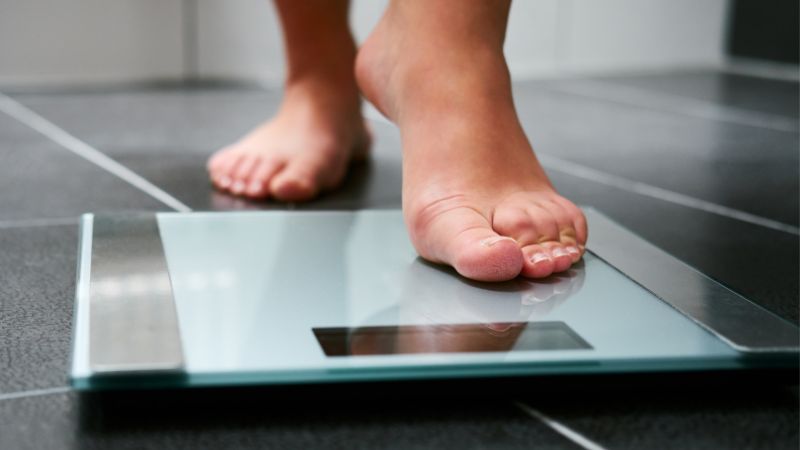 How Much Does Noom Cost?
Anyone can Noom try for free with a free 7-day trial. (Occasionally Noom will offer 14 days free.) After your trial, you'll automatically be billed the amount for the auto-recurring plan you selected. (When you register for the free trial, you need to designate the paid plan you wish to subscribe to if you choose to continue using Noom.)
The least expensive Noom plan starts at around $16 a month. When you sign up for Noom, you select a monthly, 2-month, 3-month, 4-month, 5-month, 6-month, 7-month, 8-month, or annual plan. The longer the plan, the cheaper your monthly rate.
And while the annual plan averages out to around $16 a month, you are billed the full plan rate in one payment. For any plan below, you are billed the full cost upfront.
And while the annual plan averages out to around $16 a month, you are billed the full plan rate in one payment. For any plan below, you are billed the full cost upfront.
| Plan | Cost | Monthly |
| --- | --- | --- |
| Monthly | $59 | $59 |
| 2-Month | $$99 | $49.50 |
| 3-Month | $129 | $43 |
| 4-Month | $139 | $34.75 |
| 5-Month | $149 | $29.80 |
| 6-Month | $159 | $26.50 |
| 7-Month | $169 | $24.14 |
| 8-Month | $179 | $22.38 |
| Annual | $199 | $16.58 |
Noom Nutrition & Food Colors
Since Noom isn't a diet, they take a less restrictive approach to nutrition.No foods are off limits. But they do encourage a diet that's heavily centered on water-rich foods (fruits and vegetables), lean proteins, low-fat dairy, legumes, and cooked whole grains.
Noom bases these recommendations based on a food's satiety (ability to satisfy hunger) rather than calorie count. A cup of raisins or a cup of grapes will achieve the same level of fullness. But grapes, with a much higher water content, have just 62 calories in a cup. The same unit of raisins has 500 calories - over 700% more calories.
Noom eating guidelines emphasize low-calorie foods that can be eaten in high quantities. This helps you feel full, satisfied, and like you're not missing out. While ½ of a cupcake may have enough calories to satiate your hunger, eating such a small size of food is going to leave you feeling deprived.
Cupcakes, French fries, pizza, beer, and similar foods are not off-limits. But Noom recommends users enjoy these foods sparingly and in reasonable portions.
Noom Food Colors
Noom makes it easy to follow their eating principles. The Noom database contains just about every food you can think of, and every food is assigned one of three colors.
Noom Green Foods
Least calorie-dense
Highest concentration of vitamins and minerals
Water-rich
Examples include egg whites, whole grains, non-fat dairy, and fresh fruits and vegetables
Noom Yellow Foods
Mid-level calorie density
Contain a medium concentration of vitamins and minerals
Also have unhealthy aspects (like being high in sodium or saturated fat)
Recommended in moderation
Examples include lean meats, low-fat cheese, potatoes, and starches
Noom Red Foods
Calorie-dense foods
Enjoy sparingly
Pair red foods with green foods to round out a meal
Attention to portion size is important
Examples include red meats, chocolate, sugary drinks, and fried foods
How Does Noom Compare to Other Diet Plans?
Of course, there are a number of other diets and weight loss plans on the market. Different programs work (or don't work) for different people. Noom's goal is to help users create a permanent shift in healthier living, not just lose weight with a fad diet.
While Noom works for most, it may not be the best plan for you. Here's a quick rundown on how Noom compares to other programs so you can determine the best weight loss that will work best for you.
| | Noom | MyFitnessPal | Ketogenic | Weight Watchers | Healthy Wage |
| --- | --- | --- | --- | --- | --- |
| App-Based | Yes | Yes | No | No - but WW does have an app | Yes |
| Cost | $16 - $60 month | $0 - $9.99 month | $0 - $200+ month | $22 - $55 | $5 - $995 month |
| Meal Delivery Offered | No | No | Many meal delivery services offer Keto options | Not specifically through WW, but a number of grocery frozen meals and meal delivery services are WW approved. | No |
| 1:1 Coaching | Yes | No | No | Yes - for higher priced plans | No |
| Rooted in Behavioral Psychology | Yes | No | No | No | Yes |
| Off-Limit Foods | None | None | Carbs, refined sugars | None | None |
Bottom Line
Noom has a lot going for it in terms of coaching, psychological support, and a more open and holistic approach to diet and nutrition.
As someone who's gone on and failed many a crash diet (I lasted on Atkins for half a day before breaking down and ordering a number 2 at McDonald's), Noomm's approach is a lot more palatable.
Complete easy, bite-size courses in the app to learn about healthier eating and triggers that are tripping up your success to permanent weight loss. And you get a 1:1 wellness coach to help encourage you and motivate you.
Having a coach to cheerlead for you, and keep you accountable, is key. And beyond the coach, there's an entire community of Noom users you can connect with for motivation, tips, ideas, and inspiration.
And while there's no silver bullet when it comes to long-term weight loss, Noom offers a more realistic, sustainable approach than many other programs. No need to cut out foods or count points or calories for the rest of your life, just make general strides down a more healthful path.
About Noom
Noom was founded in 2008 by Saeju Jeong (CEO) and co-founder Artem Petakov. While initially, Noom was a calorie-counting, exercise-logging app, om has evolved into a behavioral wellness app.
The Noom app uses psychology to nudge users toward healthier lifestyle habits, including a more nutritious diet. Its signature product, the Noom Weight Program, is the anti-diet alternative that competes with established industry players like Weight Watchers and Jenny Craig.
Individualized coaching and behavioral psychology help user adopt healthier habits that will last.
Since 2020, Noom has seen tremendous growth in revenue. In 2020, annual revenue jumped to $400 million from $237 million. Noom's current annual revenue is estimated at $430 million.
Noom's continued mission is to make healthy living accessible for all and to change healthcare at maximum scale. Noom is headquartered in New York City and has offices in Seoul, South Korea and Tokyo, Japan.