Leesa is a vendor of mattresses, bed frames and sleeping accessories. Leesa sells three different types of mattress: the original, hybrid and legend. Each bed appeals to a different type of sleeper. Leesa was founded in 2015 by former sleeping professionals who were tired of mattress companies over-promising and under-delivering. The company was built around a direct-to-consumer model that allows customers to purchase a high-quality mattress online without having to visit a stuffy showroom.

Since Leesa's creation, the company has donated more than 36,000 mattresses to shelters, charitable organizations and people in need. Through partnerships with national and local nonprofits, the company provides children and young adults in poverty with a safe, comfortable place to sleep every night. Purchasing a Leesa mattress is a way to become part of this charitable mission. Keep reading this Leesa review to get a full look at Leesa's offerings and more information about which mattress could be a good fit for your needs.
Leesa Review
---
Who is a Leesa Mattress Good For?
---
As mentioned, Leesa makes three different mattress models: the original, hybrid and legend. The bed that's right for you will vary based on the way you sleep and what you're looking for in a mattress. However, you should know right away that each of the company's mattresses are between a 5 and 7 on the 1-10 firmness scale. Generally speaking, this means that Leesa mattresses are best for individuals who prefer a medium to medium-firm bed. Check out these Leesa mattress recommendations based on sleeper type:

Leesa Mattress Construction
---
Each Leesa mattress is composed slightly different to appeal to a diverse range of individuals. Here's a breakdown covering the construction of each Leesa mattress online:
The Original
1. Gray Twill Cover
The top layer of The Original Leesa is a seamless, gray twill fabric cover.
2. Comfort Layer
Below that is a Comfort Layer. This breathable layer is made of responsive foam that sleeps cool. It contours to the body and provides bounce to enhance the sleeping experience.
3. Memory Foam Layer
Next is a memory foam recovery layer. Memory foam provides pressure-relief and contours to your body to relieve pressure.
4. Foam Base Layer
Finally, the bottom of the Leesa mattress is a supportive, foam base layer. This provides additional support and durability for sleepers of all shapes and sizes.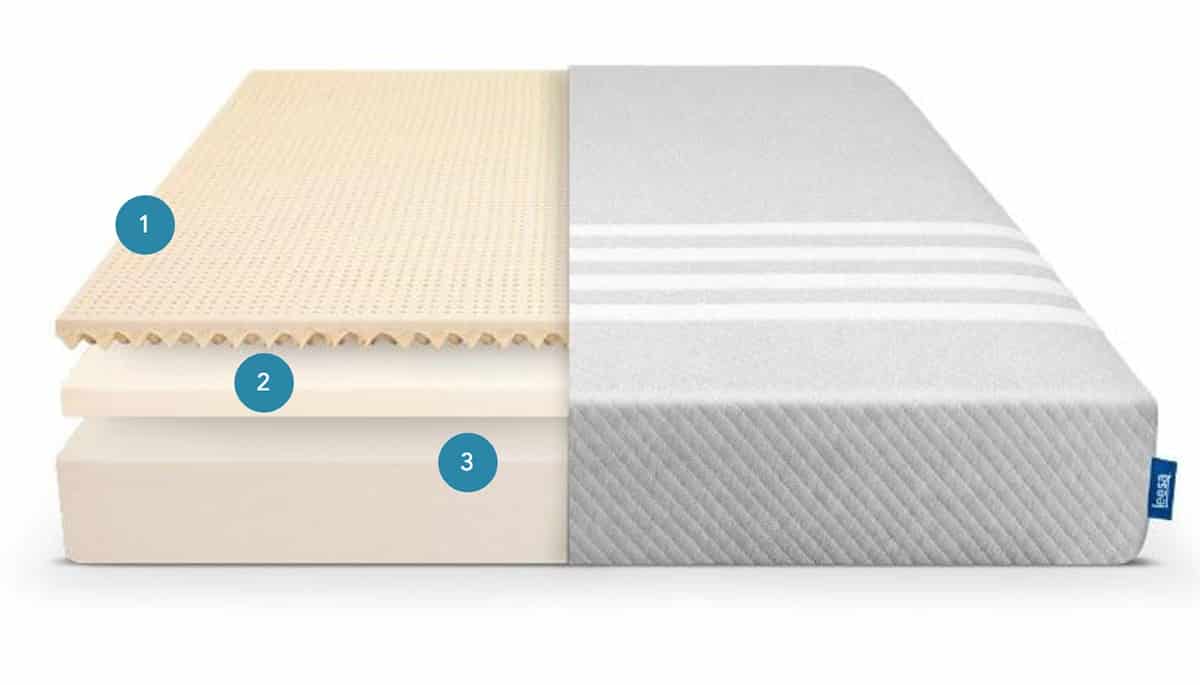 The Leesa Hybrid Mattress
Hybrid Cover - The top of this Hybrid Leesa Mattress is a soft and seamless, white-gray hybrid cover.
Comfort Layer
Memory Foam Layer
Responsive Base Layer - Finally, the base of the mattress is a quick responsive layer. This part of the Leesa Hybrid includes more than 1,000 active response pocket springs for durability and stability. These provide edge support for all body types and almost zero motion transfer.
The Leesa Legend
Soft Cover - The Leesa Legend starts off with a soft cover made out of Merino wool, 100% organic cotton, and fiber from recycled water bottles.
Comfort Layer
Memory Foam Layer
Relief & Stability Layer - The Legend is the only Leesa mattress to include a dedicated relief and stability layer. This is made out of micro-pocket springs and exclusive foam. It provides targeted relief for hips and shoulders and virtually eliminates motion transfer.
Responsive Base Layer
Off-gassing?
Off-gassing can be a harmful byproduct of a new mattress. Leesa mattresses have some off-gassing, but it should dissipate within just a few days. If off-gassing is a concern to you, consider looking for a different mattress.
Leesa Mattress Comfort Levels
---
Each Leesa mattress was constructed to sit between 5 and 7 on the 1-10 firmness scale that is used throughout the industry. This scale makes 1 the softest possible mattress and 10 the firmest possible. Because of this, Leesa mattresses are classified between medium and medium-firm.
You can likely get a better night's rest with a Leesa mattress unless you belong to a specific category of sleeper that needs a specialized mattress. For example, heavier individuals may want something a little firmer than a Leesa mattress to get all of the support they need. Here's a breakdown for each mattress the company sells:
The Original
Leesa's Original mattress lands at a 5 on the 1-10 mattress firmness scale. The Original is a 10-inch thick, mixed-foam mattress that features two comfort layers, along with a support core made of high-density polyfoam. The bed is an excellent choice for sleepers with chronic back pain and motion sensitivity. However, it may be too soft for heavier sleepers -- especially those who sleep on their sides.
The Hybrid
Leesa's Hybrid mattress lands at a 6.5 on the 1-10 mattress firmness scale. It has a medium-firm feel that can easily accommodate sleepers of all weight groups and sleep position preferences. The Hybrid Leesa mattress is composed of five layers, including a top comfort layer. This part of the bed is constructed with 1.5 inches of hole-punched poly foam. It sits on top of a 1.5-inch layer of memory foam for added comfort. The hybrid is a good choice for most sleepers. However, it may not be your best option if you prefer a softer mattress.
The Legend
The Leesa Legend is the company's newest model. It lands at a 6.5 on the 1-10 firmness scale. The Legend has a medium-firm feel that's a good option for sleepers under 230 pounds as well as those with chronic pain. The mattress is made up of six layers for a thickness of 12-inches. It may not be the right choice for you if you're a stomach sleeper who weighs over 230 pounds.

Leesa Mattress Foundations
---
As Leesa has grown as a company, it's begun to offer more than just mattresses to its customers. Today, it also sells four different bases. These bases are ideal compliments to a new Leesa mattress.
Adjustable Base
The adjustable base is a good option for individuals who want maximum customization options for nightly sleep. This Leesa mattress foundation gives you nearly unlimited ways to position your mattress for the best night of rest. Leesa's adjustable base requires no bed frame or existing foundation. The adjustable base starts at $1,249.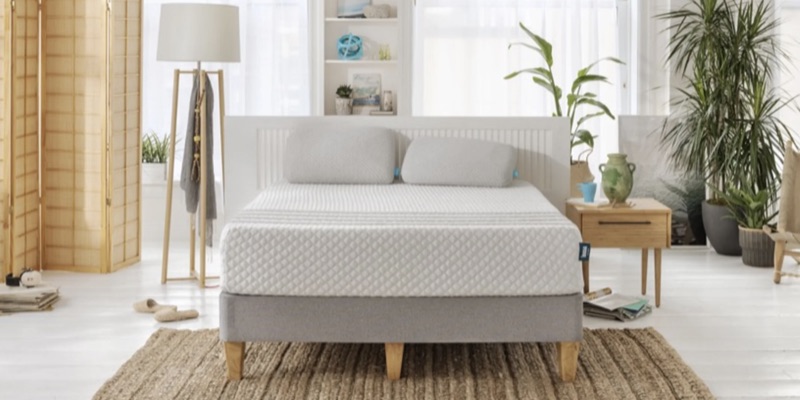 Platform Bed
The Leesa Platform Bed is easy to assemble and provides a supportive base for you to sleep on. The platform bed's wood legs and birchwood slats create a flexible look that can fit in nearly any bedroom. This Leesa mattress base starts at $549.
Standard Foundation
Other customers may be interested in purchasing a standard Leesa Foundation. The foundation consists of striking, clear lines to match your new Leesa mattress. The Leesa Foundation is a favorite option for budget-conscious consumers. It starts at $239.
Bed Frame
The final option is the Leesa bed frame. This minimalistic frame is made of high quality steel. The Leesa Bed Frame is available in all mattress sizes and starts at only $129.
Leesa Mattress Pricing
---
Price is an important factor when shopping for a new mattress. Here's what you can expect to pay for each Leesa mattress.
| SIZE | ORIGINAL | HYBRID | LEGEND | PLATFORM BED | ADJUSTABLE BASE | FOUNDATION | BED FRAME |
| --- | --- | --- | --- | --- | --- | --- | --- |
| Twin | $594 | $894 | n/a | $549 | n/a | $239 | $129 |
| Twin XL | $636 | $934 | $1,444 | $549 | $1,249 | $239 | $129 |
| Full | $764 | $1,189 | $1,699 | $599 | n/a | $269 | $129 |
| Queen | $849 | $1,444 | $1,869 | $699 | $1,299 | $299 | $149 |
| King | $1,019 | $1,614 | $2,124 | $899 | $2,299 | $359 | $149 |
| Cali King | $1,019 | $1,614 | $2,124 | $899 | $2,299 | $399 | $149 |
How Does Leesa Compare?
---
There are many different luxury mattress options available on the market today. Here's how Leesa's hybrid mattress stacks up to the competition:
| | LEESA | AWARA | ZENHAVEN | CASPER |
| --- | --- | --- | --- | --- |
| Price (Queen) | $1,444 | $1,149 | $1,899 | $1,949 |
| Sleep Trial | 100 Nights | 365 Nights | 120 Nights | 365 Nights |
| Warranty | 10-Year | Lifetime | 20-Year | 25-Year |
| Free Shipping | Yes | Yes | Yes | Yes |
| Free Returns | Yes (Except AK & HI) | Yes | No | No |
Leesa Company Info
---
Leesa was founded in 2014 by former sleep professionals who were unhappy with the market's current offerings. The company is proud to give back to the community with a portion of every mattress they sell. In fact, Leesa donates one mattress for every ten that they sell. This has resulted in the company giving away more than 36,000 Leesa mattresses since 2014. The company is also proud to support green initiatives and do its part for the environment.
Leesa provides all of its customers with a 120-Night sleep trial. If you don't like your bed after four months, you can send it back for free as long as you don't live in Alaska or Hawaii. The company also includes a limited 10-year warranty with their mattresses.
Leesa Pros and Cons
---
Pros
Excellent motion isolation

10-year warranty

120-night sleep trial

Good edge support

Stays cool throughout the night

Free shipping and returns

Good weight distribution and support

Contours to body well
Cons
Other mattresses have better sleep trials and warranties

Not ideal for side sleepers

Not best option for individuals over 230 pounds

Limited range of comfort levels
Overall Leesa Mattress Review - 4.4/5
---
Leesa is a quality mattress company with three different mattress options. Leesa compares favorably to many of its peers in terms of price. This makes Leesa an affordable brand that can get you a new luxury mattress without breaking the bank.
Still, Leesa could make some improvements. The company only sells mattresses that range in comfort level from 5-7 out of 10. This leaves out sleepers who are looking for soft mattresses and fails to cover those looking for very firm mattresses online as well. Additionally, Leesa lags behind others in the length of its sleep trial and warranty.
Leesa mattresses are worth trying for some sleepers, however, there are better options. If you're looking for a medium to medium-firm mattress, then Leesa could be the right mattress for you.