DreamCloud is an online mattress retailer designed with the purpose of balancing comfort and support, whether you sleep on your back, stomach or side. Since it is a hybrid mattress, it offers memory foam as well as coil springs, but also four other layers of support - six in total.

Ideal for anyone who wants to take the guesswork out of buying the right mattress for their needs, DreamCloud only makes one type of mattress: the Luxury Hybrid. On a scale of 1-10, with 1 being softest and 10 being firmest, it rates a 6.5.
For anyone looking to buy a new mattress, DreamCloud's free shipping and returns, lifetime warranty and 365-day trial are attractive features for online buyers.
DreamCloud Review
Who is a DreamCloud Mattress Good For?
While the hybrid features of a DreamCloud mattress are intended to suit a wide variety of sleepers, DreamCloud is recommended for:
Combination Sleepers: This is because the foam layers and coils are so responsive to shifting body weight.
Heavyweight Sleepers: Because of the thickness of its hybrid construction, DreamCloud mattresses provide the support that heavier sleepers need, preventing them from sinking through to the support core underneath the transitional comfort layers.
Back Sleepers: While intended to suit a variety of sleeping styles, DreamCloud is especially ideal for back sleepers, due to the mattress' lumbar support and firmness.
People with Back Pain: Since it has a balanced combination of firmness and give, the DreamCloud mattress promotes the natural curvature of the spine while absorbing any pressure in the shoulders and the hips. Also, its strong edge support stays firm when weight is put on the edges of the bed, making it easier for those with chronic back pain to get into and out of bed.
Despite being a good all-around choice for most sleeping styles, DreamCloud is not particularly recommended for lightweight sleepers who weigh under 130 pounds and sleep on their sides. They may feel that the mattress is too firm for their liking. Additionally, anyone who prefers an extra-soft mattress that hugs the body may not prefer the DreamCloud mattress since it has more support than they may be accustomed to.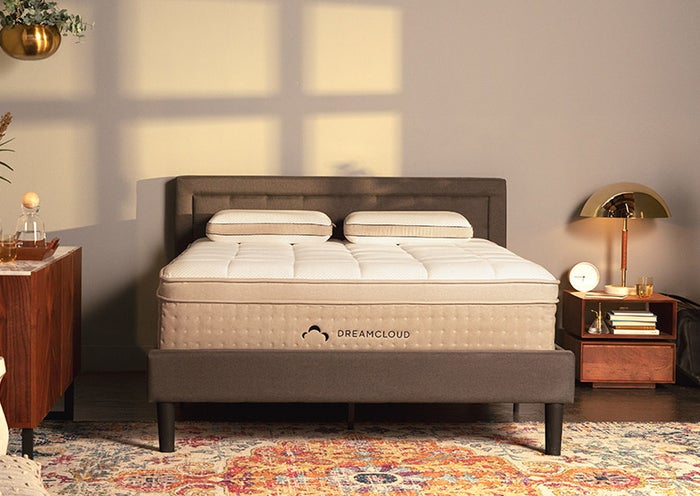 DreamCloud Mattress Construction
There is a lot of consideration put into the construction of the DreamCloud Luxury Hybrid mattress, with six layers designed for separate functions. Here is a detailed description of each, starting with the top layer:

1. CASHEX Cashmere Blend
This is DreamCloud's signature cover made of soft Mongolian cashmere that promotes lightweight moisture-wicking and cooling abilities. Because it is hand-tufted, it ensures that the top layer stays in place and doesn't move or detach throughout the lifetime of the mattress.
2. Trueloft Eurotop
This is the first foam layer of the mattress and is made of gel-infused memory foam with cooling features and contours to the body.
3. Point-Activated Foam
The third layer of DreamCloud mattresses is made of a denser foam that is intended to relieve pressure points. Although it helps form to the body, it is also responsive enough to snap right back when a sleeper changes positions.
4. Low-motion Transfer Foam
The fourth layer is made of natural latex. For anyone with latex allergies, the fact that this foam is located in the middle of the mattress shouldn't be a problem. The reason for this layer is to add to the contouring abilities while also creating a bit of springiness that people are accustomed to in their mattresses.
5. Edge Shield Coil System
The fifth layer of the DreamCloud mattress is 8 inches of heavy-duty, edge-to-edge individually encased coils. There's also a double-row rim for optimal edge support, which is what makes it easier for people to get into and out of bed. The coils in the DreamCloud mattress are smaller and tighter than other coil mattresses, making it more firm and supportive.
6. Stay-put Control
The sixth layer at the bottom of the mattress is another high-density yet soft memory foam layer intended to help encase the coils in the layer above it. It also helps isolate motion.

Due to the individual layers, the DreamCloud mattress is constructed with, it is taller than the average mattress, measuring at 15 inches high compared to the average 10 inches for other mattresses. It is shipped compressed and rolled up in a cardboard box, forming into shape after being released from its box. Buyers who would prefer to have someone else unpackage the mattress can purchase a white-glove service that delivers and sets up the mattress, while also removing their old mattress. The cost is $149 and is non-refundable. Nonetheless, with a weight of 74 lbs. for a Twin XL and 135 lbs. for a California King, it might be worth the small investment.
Off-Gassing?
There is minimal to no off-gassing with DreamCloud mattresses. Any smells present upon opening will quickly dissipate. DreamCloud mattresses are built to be safe for the environment and people.

DreamCloud Mattress Comfort Levels
DreamCloud makes only one type of mattress, the Luxury Hybrid. It is 15 inches thick and is considered a medium-firm comfort level, rating as a 6.5 on the 10-point firmness scale for mattresses.
DreamCloud Mattress Foundations
There are four different foundation options to choose from if you're looking for a base for your DreamCloud mattress: a basic metal frame (separate box spring needed), a platform base, a frame and headboard combo and an adjustable frame.
Metal Frame
If you already own a box spring but need a basic frame to put both the box spring and mattress upon, a simple DreamCloud metal frame will do the trick. It is only $95 and is adjustable to fit all mattress sizes.
Platform Base
For anyone lacking a box spring or who wants a good-looking base that also serves as a box spring, a platform base is an attractive option with its grey upholstered sides. The DreamCloud platform bed slats are 4 inches apart to prevent sagging. It's easy to assemble with no tools required and is available for each mattress size.
Frame with Headboard
For those who like the look of the platform base but also desire a headboard, the frame with a headboard option is best. It comes in a choice of grey or linen and comes in Full, Queen or King sizes.

Adjustable Frame
The last foundation option is an adjustable frame with a remote control to adjust the head and foot of the bed. It comes in Twin XL, Full, Queen and Split King.
DreamCloud Mattress Pricing
Prices for the DreamCloud mattress and frames are listed below, with the exception of the basic adjustable metal frame, as it comes in just one adjustable size costing $95.
| SIZE | MATTRESS | PLATFORM BASE | FRAME w/ HEADBOARD | ADJUSTABLE FRAME |
| --- | --- | --- | --- | --- |
| Twin | $799 | $200 | n/a | n/a |
| Twin XL | $799 | $200 | n/a | $649 |
| Full | $999 | $200 | $300 | $699 |
| Queen | $1,199 | $250 | $350 | $799 |
| King | $1,299 | $275 | $375 | Out of Stock |
| Cali King | $1,299 | $275 | n/a | $1,298 for Split King |
How Does DreamCloud Compare?
Compared to other hybrid mattresses on the market, DreamCloud is definitely a top option with its attention to detail and its several layers of comfort. In terms of pricing, DreamCloud is average compared to other mattresses. For example, an average coil mattress might cost around $1,500 compared to $900 for an average memory form mattress. However, for a hybrid mattress, $1,600 is average for a queen size. This means DreamCloud is on the lower end of the price spectrum with $1,199 for a queen size DreamCloud mattress.

In regard to thickness and height, DreamCloud is significantly higher than other brands with its 15 inches for the mattress alone. Taller people might appreciate this, while shorter people might have a difficult time getting into and out of bed.

In terms of the buyer's experience, DreamCloud makes it easy to choose since there's just one option. The company also does a great job of easing fears of buying a mattress online, since the 365-day trial period allows the buyer to get accustomed to it and make sure it is still working for them after a of couple months or even a year. This tops its competitors who generally offer a 100-night trial. The DreamCloud warranty also exceeds that of its competitors, with a lifetime warranty instead of the average of 10-15 years.
| | DREAMCLOUD | PURPLE HYBRID | CASPER HYBRID | SAATVA CLASSIC |
| --- | --- | --- | --- | --- |
| Price (King) | $1,299 | $2,057 | $1,395 | $1,499 |
| Pillow Top/Eurotop | Yes | No | No | Yes |
| Height | 15 inches | 11 inches | 12 inches | 11.5 inches |
| Warranty | Lifetime | 10-Year Limited | 10-Year Limited | 15-Year Limited |
| Sleep Trial | 365 Nights | 100 Nights | 100 Nights | 120 Nights |
| Cover | CASHEX Cashmere Blend | Polyester Blend (Viscoce/Lycra) | Polyester Blend (Spandex) | Organic Cotton |
Prices may not reflect current discounts or promotions.
DreamCloud Company Info
DreamCloud is a subsidiary of Resident Home, LLC, which also makes Nectar mattresses. The headquarters are located in Palo Alto, CA. However, the mattresses are made in China before being shipped to a distribution center in the state of Washington.
According to the DreamCloud website, the company is actively engaged in charity work with an organization called ClimatePartner, which is focused on reducing CO2 emissions. They also donate any returned mattresses to charities like the Salvation Army. This not only helps those in need of a mattress but also ensures mattresses aren't thrown into a landfill practically unused.
For any questions, consumers can refer to the DreamCloud website, where it lists options for phone, email or chat. Customer service is available seven days a week from 6 a.m. to 6 p.m.
DreamCloud Pros and Cons
Pros
Simple buying process with only one hybrid mattress option

Highly competitive pricing

Very generous trial period and warranty

Little off-gassing

White glove delivery available
Cons
Only one mattress option

Not ideal for stomach sleepers or lightweight people

Deeper sheets needed due to height of mattress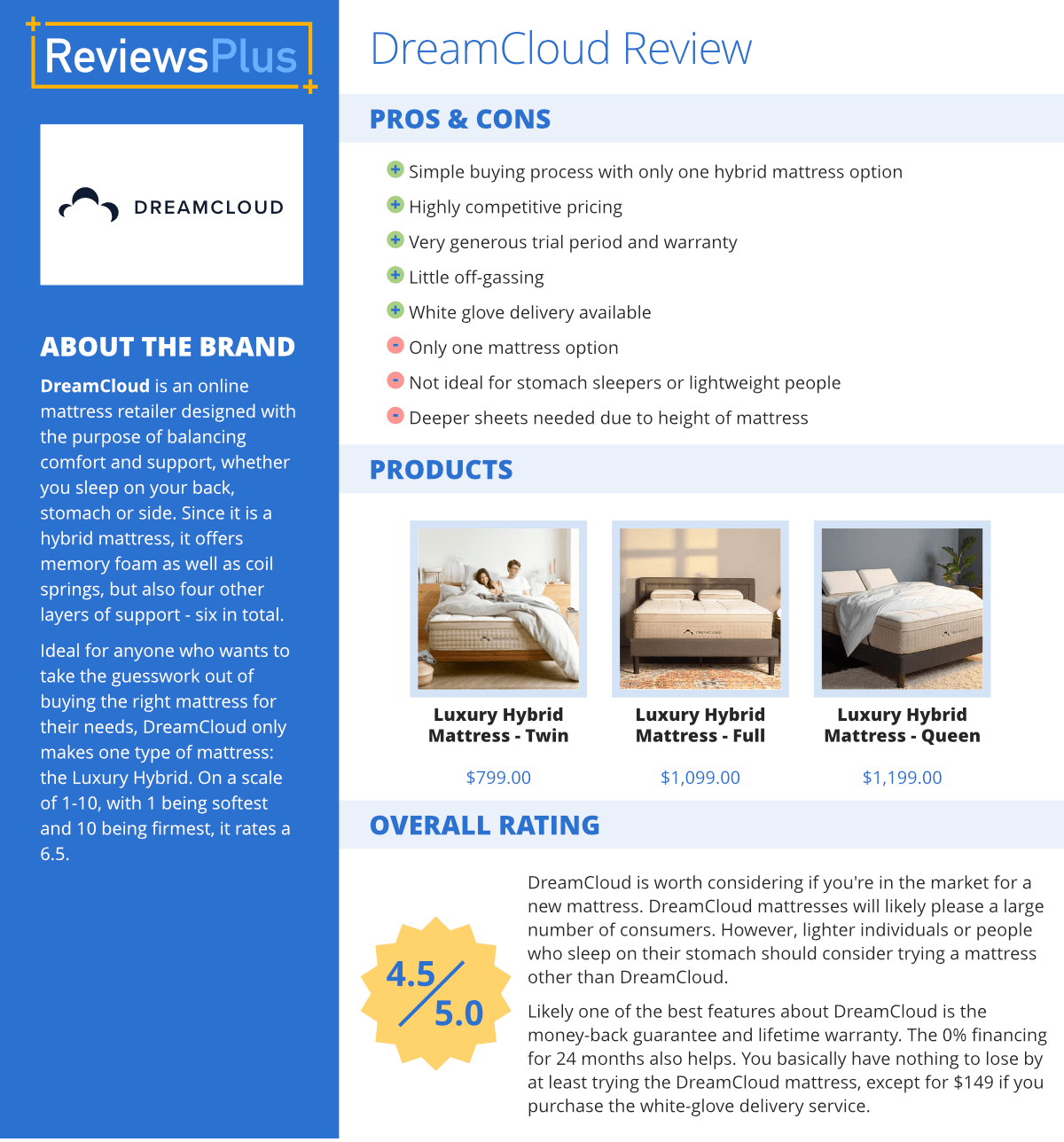 Overall DreamCloud Mattress Review - 4.5/5
DreamCloud is worth considering if you're in the market for a new mattress. DreamCloud mattresses will likely please a large number of consumers. However, lighter individuals or people who sleep on their stomach should consider trying a mattress other than DreamCloud.
Likely one of the best features about DreamCloud is the money-back guarantee and lifetime warranty. The 0% financing for 24 months also helps. You have nothing to lose by at least trying the DreamCloud mattress, except for $149 if you purchase the white-glove delivery service. One of the biggest downsides of DreamCloud is the lack of options available when purchasing a mattress.