Invisible teeth straightener at-home kits are a modern, discreet and less costly system for straightening your teeth compared to going to the orthodontist and getting traditional metal or ceramic braces. The aligners are "trays" made from medical grade plastic (polyurethane from methylene diphenyl diisocyanate and 1.6-hexanediol) that are created from a 3D digitized scan of your teeth. This scan can either be taken by a professional or created from a putty mold you administer yourself. You then receive a series of aligner trays that generally must be changed every two weeks. The aligners are custom-made to your mouth and slowly readjust your teeth positioning over time, usually 6-18 months.

Although there are several manufacturers of invisible aligners, many people use "Invisalign" to reference all invisible straighteners because they were the first invisible teeth straighteners on the market. Invisible braces must also be removed when eating and drinking anything except water. Unlike traditional braces, users of invisible ones must have the self-discipline to keep them in 22-24 hours a day.
ADVANTAGES OF INVISIBLE STRAIGHTENERS AT-HOME
Aside from the obvious positive effects that aligners will have on your teeth and your smile overall, they also have many more benefits rather than getting traditional metal braces. Although traditional braces are more effective for complex issues, the majority of alignment problems can be addressed by invisible braces. Other benefits of invisible aligners include; the convenience of having fewer follow-up visits with an orthodontist (also a money-saver!), a more comfortable straightening experience since with invisible aligners there are no harsh wires poking out and cutting the inside of your mouth, and, of course, invisible trays are more aesthetically pleasing (since they're not even noticeable!) so you won't have to feel self-conscious about having protruding metal braces.
HOW MUCH DO INVISIBLE ALIGNERS COST?
The cost of invisible at-home teeth straightening kits is mainly dependent on how much adjustment your teeth need. Patients who require more time for alignment will require more plastic trays and will consequently be paying more. These days, most dental plans will at least partially cover invisible teeth straighteners at-home according to their benefit schedules and lifetime payouts. Some plans have separate lifetime payouts for orthodontics and dental procedures in general that can be used in tandem. Some have lifetime caps for all procedures, period. Contact your provider to see what they have on offer for you.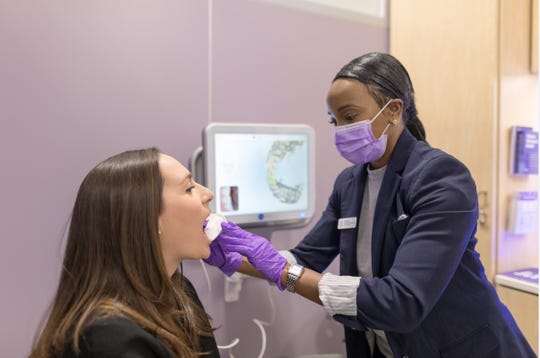 At SmileDirectClub you can skip the orthodontist visit altogether! Their clear aligners let you straighten your teeth on your schedule, from the comfort of your own home. You'll be assigned a duly licensed dentist or orthodontist. He or she will check in with you every 90 days through your customer account and monitor your progress remotely. With just 3 easy steps you can align your teeth cheaply and efficiently. First, they'll make a 3D image of your teeth to see exactly what's going on and align your smile. There are two easy ways to make a 3D image: you can visit a SmileShop for a scan of your smile, or SmileDirect can build it from the impression you take using their at-home impression kit. Your 3D smile is reviewed by a duly licensed dentist or orthodontist, who will guide your new smile from beginning to end. The entire treatment plan lasts, on average, 6 months.

Next, they'll send you a preview of your new smile showing how your smile will transform. It's time to begin production of your clear aligners which will be as unique to you as a fingerprint. The at-home teeth straightening kit that will guide your teeth into alignment will be delivered right to your door. They also send premium teeth whitening so you can show off those pearly whites. And finally, after checking with your doctor and completing treatment, you can purchase a set of retainers for $99. Wear them at night to keep your new smile in place. Feel free to order touch-up whitening treatments any time.
Pricing:
SmileDirectClub has two easy ways to pay for your treatment. You can either make a one-time, single payment of $1895 (which is around 60% cheaper than other invisible braces companies). Or, you can use their easy and convenient SmilePay option. This option allows you to slowly pay off your aligners for just $85 a month!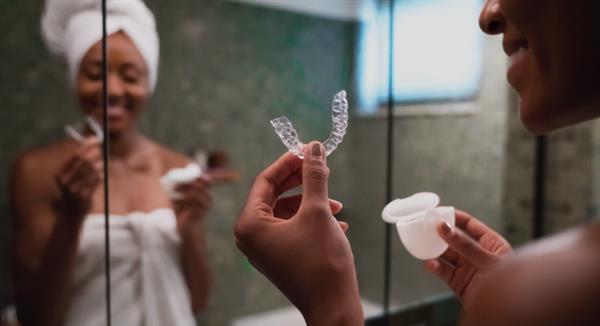 Candid is unique in that it has Candid Studios across the country where you can begin your teeth straightening process, however, they also allow you to order your at-home teeth straightening starter kit and take impressions of your teeth yourself. Once Candid gets your impressions, they will send you an interactive 3D model of your teeth straightening over time so you can see exactly how your specific aligners will work. Then they'll deliver your complete set of clear aligners straight to your door!

Pricing:
Candid offers a one-time payment of $1900 or a monthly payment of $88 a month. Both payment options, for no extra cost, include the entire teeth straightening kit, premium whitening treatment, and a set of retainers.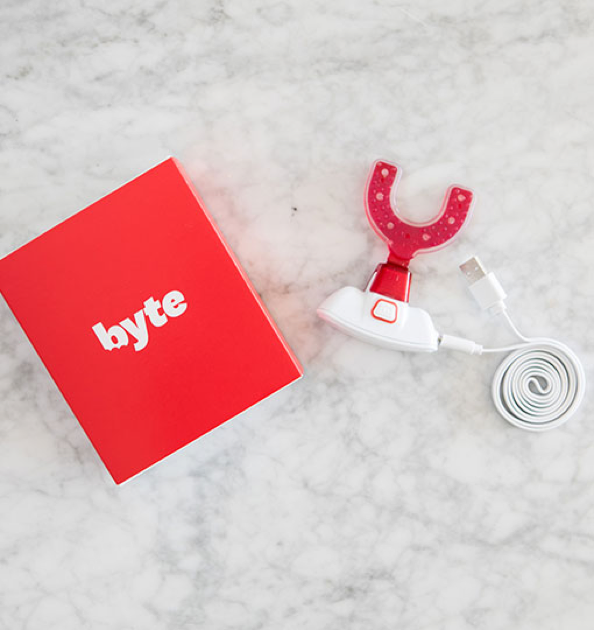 Similar to SmileDirect and Candid, with Byte, you receive an impression kit which contains everything you need to send a model of your mouth for invisible at-home teeth straighteners in just twenty minutes. Then, Byte orthodontists will customize your treatment plan, which comes complete with a 3D interactive model. Byte will then ship your custom aligners straight to your door. The unique aspect of Byte is their HyperByte technology that's included in your custom aligners. HyperByte is their exclusive dental movement acceleration device. It works by using high-frequency vibration that comfortably and safely straightens your teeth 6x faster than regular braces.

Pricing:
With Byte, you can make a one-time payment of $1895 or use bytepay and pay as low as $83 a month. The impression kit costs an extra $95, however, the price of the aligners includes a premium whitening kit as well as the HyperByte device.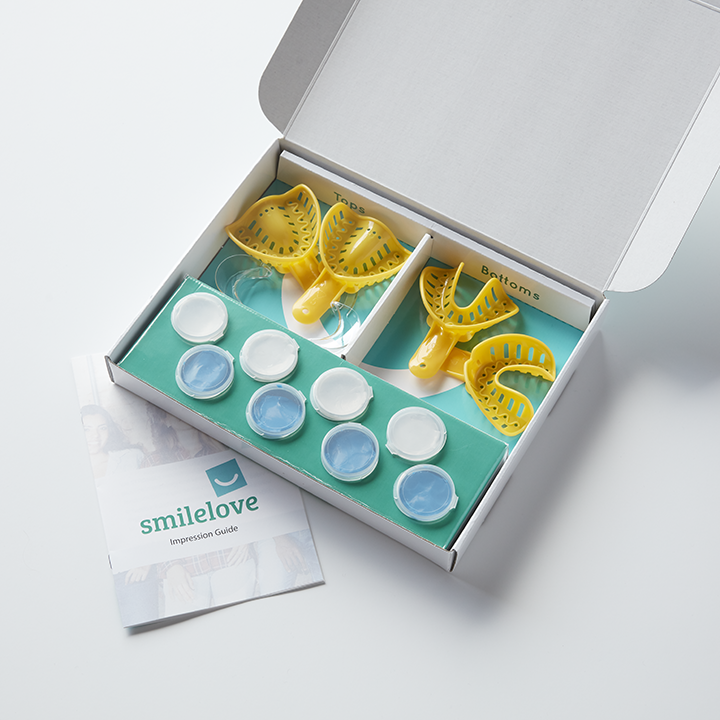 Smile Love, like the others, will send you an impression kit to make molds of your teeth at home. Their team of doctors will create a plan for how your teeth will move and will send you a digital preview of the results. Then, they'll send you all the clear aligners you'll need to get your teeth perfectly straight. Once you're done, they will send you complimentary retainers and a premium whitening kit.

Pricing:
Smile Love's one-time payment for the impression kit, the aligners, the whitening kit and the retainers is $1895. They also have a payment plan option of $79 a month, making this one of the cheapest options out there for aligning your teeth!